Saxophone Pearls
These genuine mother of pearl saxophone key buttons are available in concave, convex, Keilwerth Style and Selmer Style.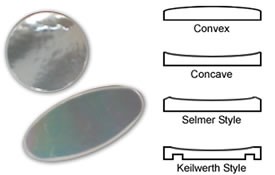 Our Keilwerth style pearls are made of solid mother of pearl or Abalone. We machined the groove in the back to fit on the key with little or no modification. You can install these pearls with super glue or epoxy.
Our abalone pearls feel and perform exactly like our well known MOP key touches. They only differ in the way they look, and they look amazing!